Maksim Levchenko rarely gives interviews. Most of the time he is busy with his work on developing a new concept of Moscow's shopping malls with a total area of 0, 5 million square meters. The company took control of those malls in early 2018. MarketMedia spoke to Levchenko right after the international exhibition MAPIC Russia.

Maksim, what do you think of MAPIC Russia this year?
The participants of MAPIC Russia are normally all the same people. It gets obvious that our market is quite small. It is particularly noticeable in comparison with MAPIC Cannes that hosts heavyweight investors from all over the world. In fact, we look like a grain of sand in their background. Meanwhile, there are few western developers and retailers in Russian trade left. At such exhibitions, it is particularly striking.

Does it mean foreigners do not want to play Russian roulette in the conditions of sanctions?
Actually it is not the matter of sanctions but the fact that western squeaky clean funds have to prove the shareholders that their investments in Russia will make profit. It is hard to plan and develop something in unstable environments while the investment in real estate is a long playing process.

Are the western retailers as careful as the developers?
Many foreign retailers leave our market. It is not just because of the unstable situation and the crisis but also because the classical business management models do not work in Russia. What management style are the foreigners used to? They prefer to do it transparently and according to the classic pattern. However, in Russia they face the environment that all the plans run around on. There is no planning here. Even analysts, who are supposed to know everything about macroeconomics and be insightful, change their forecasts diametrically several times a year. Such situation is actually not about the changing economic factors. It may happen just because someone has been poisoned somewhere and it all immediately goes wrong. No one can predict this. No one can influence the situation. In general, I've noticed that in Russia one year is good, and the next one is bad, and thus they interchange.

How to do business if it is all so unpredictable?
In fact, this unstable situation is a chance for domestic business. On a market where manual control is effective, we can be more successful than a large and well-organized western business. When everything is stable, it is impossible to compete with it, because the western business has access to cheap and big capital and the ability to dictate prices. However, during turbulence times, foreigners cannot work according to a pattern: while they get together and discuss what to do, a business can simply return to zero. It happened like that in the case of Auchan and Castorama.

How can you describe the current situation on the retail real estate market?
The forecast for 2019 was terrible. However, as the year goes by everything seems to be normal. There is no apocalypse, no powerful stress. We live in our cocoon and are engaged in a petty routine. Commercial real estate market is associated with the life of people, which varies little. It is pretty smooth. However, it is impossible to develop while staying in the cocoon. It is better when the market has an additional charging from outside. I personally favor the world without borders, where everyone has equal opportunity to work. Unfortunately the political situation in the world is such that it is hard to attract foreigners here.

More than a year ago Fort Group took control of the five shopping malls in Moscow that used to belong to the Austrian holding Immofinanz. What is your feeling about the Moscow market?
Moscow market is about big marketing budgets, big players and high competition. All the plans originate from Moscow, it all starts there. In that game St. Petersburg market looks local and provincial. It is really small.

What do you do with the Moscow projects?
At the moment we focus on changing their concept and doing repairs. We put the shopping malls in order step by step.

Will the malls change a lot?
Yes, they will, but it doesn't imply increasing the area. We will introduce a different tenant mix and a new design. We should match the new trends.

What are you planning to surprise Moscow with?
It is hard to surprise the market that has everything. However, we will try to do it. In the shopping mall "Zolotoy Vavilon Rostkino", we will launch a new format of food court and food-hall with a working name "City Food" in August. Its total area will make 10,000 square meters. Obviously there are food concepts of bigger size in Moscow, such as "Depo". However, the capital of Russia has not seen such big food courts and food halls in one shopping center. At the same time it is not about the size. We change the main point. We are all used to the idea that a food court is about cheap food and plastic chairs. However, we want for offer a more comfortable environment. Our "City Food" will remind a whirligig of good restaurants.

What is the idea of such approach?
The market of food, entertainment, fashion, electronics, etc. is changing. All consumption goes into the category of emotions. Today shopping centers compete for the time of people not only with each other, but also with theaters, museums, and travels. There are myriad ways to go out. Therefore it is more and more difficult for people to choose where to go and where to spend money. To get those people we need to invest in atmosphere of the place.

We see the development of the eating out culture, the growing demand for inexpensive, tasty, national cuisine. If there is a demand, it is promising. We want to ride this wave, and bring the original cuisine of local gastronomy enthusiasts to the shopping center. For the moment they populate the streets and markets. Our representatives literally knock on the shops and invite them to join the project.

Are you planning to open "City Food" in the other shopping malls as well?
— We will have another project of the kind in the shopping center "City Mall" in St. Petersburg by June. Its area will make 5,000 square meters. We are also in process of its renovation at the moment. It is one of our most successful projects. However, we want to strengthen the effect. We can't increase the area there for it is already big enough but we will change the tenant mix. We hope to complete the work in a couple of years.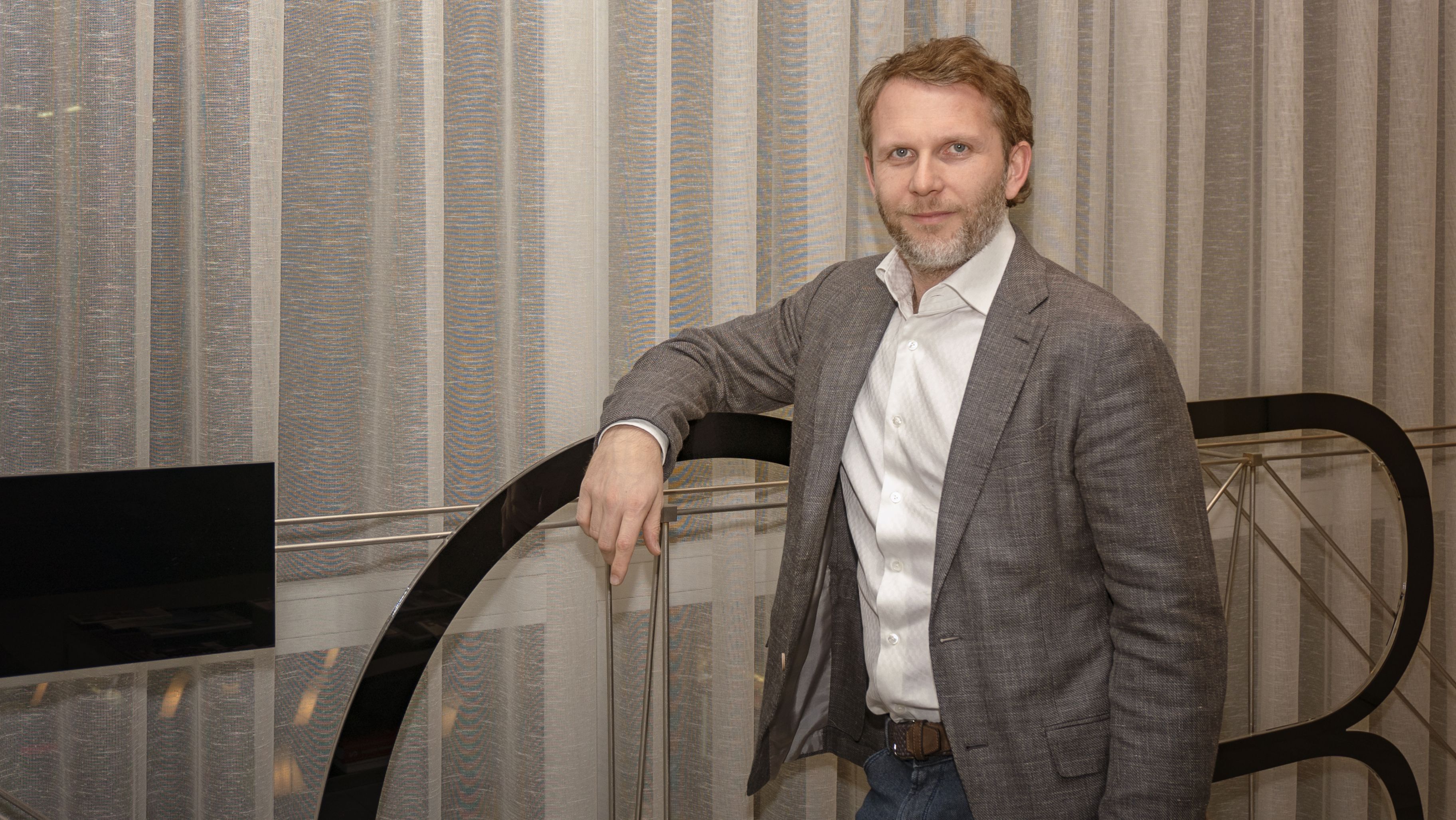 You can always be seen wearing a helmet at a construction site. It is about your life position to control everything?
It is a construction supervisor tactic. By the way, it is effective. When on site I act like a sedative pill for people. The fact is that changes on the site happen every hour. Many people get nervous because of that. People want someone to make decisions and take responsibility. To make those right decisions one has to know the matter very well since the issues of finance, construction or commerce overlap each other. So you have to follow all the process.
Fort Group has its own construction crew unit. Recently you have also introduced an architect bureau. Why did decide to have one?
— Yes, we do have an architectural department (AD in short). The head of the department is a Spanish man. He has a lot of work indeed. We decided to form an AD due to the operation aspect on developing a new concept. Third party contractors get crazy because of such work style. However, our AD employees manage to cope with that so far. They work on the construction site and do everything the way we want and change whatever is needed when it is necessary.
Why do you have to change your decisions all the time?
— We have to do so because a constructed building is often different from the initial design. Nobody know what and how was done there. Another difficult moment is that the shopping center is a big communal apartment where every store has its own desires and rules. We need to unite them in one balanced space with unified logistics, design and building services system. It is not that easy. We have to look for compromises. The designing never stops and continues even after the end of construction.
They say that big shopping centers run their course now while the demand for district shopping complexes grows fast. Do you agree with that?
This is not quite true. The size of the shopping center does not matter at all. The success of the project depends on the location and concept. New gigantic shopping centers have hardly ever been built lately for there is simply no room for them. Would you build such a complex in the open field? Meanwhile the popular and crowded places are all occupied. Therefore, we do not build anything from scratch. It is much more efficient to turn to an old shopping center in a good area and redo it.
Are you looking for new objects to buy and manage?
No, we are not. The program of concept changing that we are dealing with now is meant for two or three years. It implies very hard work and big investment ranging up to several billion rubles. I can't name the exact amount of it because we do not fully understand the budget ourselves yet. When we finish this work, we will start thinking about other projects.
What is the ideal proportion of trade and entertainment in a successful shopping mall?
I don't know. It differs. Everything depends on the location, size of the center, tenant mix. If the product is successful, it has high footfall and sales turnover, it is not that important if it offers entertainment and what part it makes.
How does the traditional trade feel in the race for survival with Internet?
There is no race for survival. There is no competition between Internet and traditional sales. It is like a right and left hand.
It is like the right and left hand of one person. It is just about the development of new sales channels and their interaction. High-quality Internet brings new visitors to the shopping centers. It is a fact. Major Internet players are starting to take on physical shape and opening shops. Meanwhile, regular retailers expand the area and turn to showrooms. After all, the consumer still wants to touch and try the goods on.
By the way, there is a study that if a person comes to the store from the site and does not find what he needs there, he gets an emotional shock. Therefore, the product matrix in stores becomes larger.
Yes, I am worried about the problem of yellow and green men (the couriers of the two largest restaurant food delivery services wear the uniforms of those two colors - MM). However, their work ultimately leads to business deals and to an increase in turnover. Shopping centers are a link in this chain. I am sure that trade will never be entirely virtual. Emotional shopping is sex, color, smell, champagne. You will not find that online.
Can you make a forecast for the development of the retail real estate market in the near future?
Currently the main rival of shopping malls as an investment asset is a bank deposit. Deposit rates go down, and capital is looking for the ways to get higher returns than in a bank account. Investments in commercial real estate can bring up to 8-11% per annum. If the downward trend in bank rates continues, the real estate market can get new players, including the ones from the domestic market. Banks, pension funds and private investors have money. For instance, Sberbank, as you know, is sizing up the "Gallery" shopping mall (the most expensive shopping mall in St. Petersburg - MM). This is symptomatic. Just think, the deposit in euros is now 0.01%, it is a little higher in dollars, and in rubles it is 5% per annum.
You were planning to buy Kuznechny Marketplace for your food hall project. Is the idea still on the agenda?
Yes, this project has all the conditions for the realization. Moscow experience proves how actively food halls develop. It also shows how popular such projects are in the buildings of former marketplaces. There is no project of the kind in St. Petersburg yet. Meanwhile, Kuznechny Marketplace located in the center of the city would be successful for sure. It could be possible to save the historical building and to do a successful business making it both touristic and gastronomic. Unfortunately Kuznechny Marketplace still has some legal issues. Those issues form a barrier both for transferring it to an investor and for putting it up for auction. However, if the auction is announced we will most possibly take part in it.
Your portfolio includes the project of an office complex Fort Tower near Elektrosila metro station which is completely rented by Gazprom structures. Have you completed it?
Yes, we completed it in May. The experience turned to be interesting. The tenants are now moving in. Our management company, the one that is in charge of shopping centers, will be managing it. The volume of work there is big for it covers 50,000 square meters which is similar to several middle size business centers. By the way, we have some other ideas in the office segment, though it is too early to speak about that yet.
What about the project of the first private museum of Joseph Brodsky in St. Petersburg? Is it business for you or something for soul?
It is not business but social work. We'd like to do something useful, something good for the city. They've been trying to make a museum of our famous country man in St. Petersburg for many years. However, the matter has come to a standstill due to bureaucratic, legal, financial and domestic problems. And I hope that I can unite the different sides involved in this project, make a team of professionals, and we will solve all the problems together.
Why Brodsky? Is it love?
It has just all come together. I can't say that I am a fan of Brodsky, but I like his poems and prose, they have some kind of special, strong nerve.
However, the money invested in the museum will never pay back?
I have no task to make money on that project. I will be glad if it is able to cover the operational expenses. If people choose our museum to get emotions in the variety that currently exists on the market, it means that we have done everything right. Our hero is special and it can work out. We do not want to create an elite club of fans of Brodsky's poetry or a place of worship for the poet. We do not want to make a bronze bust out of Joseph Brodsky. Museum of Brodsky should be a place for a wide audience.
How to attract the audience to the museum?
To do that we need to give people bright emotions. We want to create a literature salon that existed in Muruzi House in early 20
th
century. The genius of the place contributes to this: there once lived Gippius and Merezhkovsky, Leskov, Daniil Granin, while many famous writers, for example, Korney Chukovsky, visited it.
Books will take an important place in our space. We will have a large library with up to one thousand specially selected editions, including the ones from Brodsky list. (When the poet lived in the US he made a list of books the students were to read so that he would have something to talk about with them. MM).
Besides, we will have a small café and a gift shop. The space will also host different events such as lectures, discussions, performances and exhibitions. The important part of the project will include the educational program offering the courses of literature translation, speed-reading, drawing, and graphics. Inevitably the museum will have a part of that very communal apartment where Brodsky lived in his "one and a half room". It will be possible to get there through a secret door together with our guide. At the moment we are working on the exposition, designing the engineer systems and the architecture of the place. We want to open the museum in May of 2020 by the poet's 80
th
birthday.
Fort Group
Fort Group was founded in St. Petersburg in 2009. Today the company owns 10 shopping malls in St. Petersburg. The total area of the malls makes 500,000 square meters. In the end of 2017 as a result of the deal with Austrian company Immofinanz Fort Group took control of five shopping malls in Moscow including Goodzone, "Pytaya Avenue" and the three shopping centers "Zolotoi Vavilon". The total portfolio of Fort Group in St. Petersburg and Moscow makes over one million square meters. The company is on the list of the top five commercial real estate leaders in Russia.